How We Got Started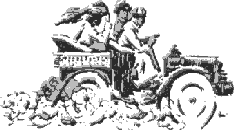 Vintage Steam Products, LLC is a direct result of the restoration of the late Art Hart's 1910 Stanley model 70.
This restoration began shortly after the purchase of the car in August 1978.  During the restoration Art found that many of the parts he needed were hard to get.  While talking to other Stanley owners, he discovered that some of these people were looking for the same items.  Since he had a fairly complete machine shop and made parts in the past for other antique cars, he started making what he needed and often extras to supply others.  Before he knew what had happened, he had a catalog and full-fledged business.
Today, the Vintage Steam Products, LLC catalog contains over 80 items with several new items under development.  The object is to make the restoration and maintenance of your steam car less of a struggle.
In February, 2009, Art sold the Stanley Steam Car part of his business to Donald and Carolyn Hoke of Dallas, Texas.  Art provided invaluable advice and counsel to Don and Carolyn as they worked to rebuild the inventory.  
Don's and Carolyn's goal is to maintain the quality and professional service Art provided over the years while expanding their line of products to serve the steam car community.
You can contact Don and Carolyn at sales@vintagesteamproducts.com or Don directly at 1925Stanley@gmail.com